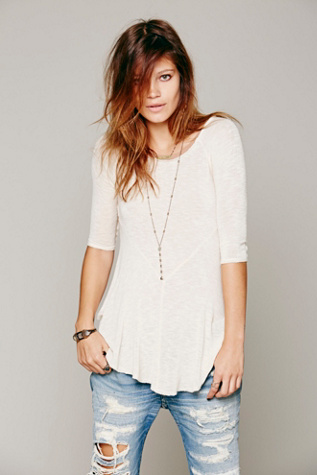 This lightweight sheer knit top that flows at the bottom is a great layering piece. Reverse seaming, a ribbed trim neckline, and an unfinished uneven hem that's longer in the middle complete the style.

*95% Rayon
*5% Spandex
*Hand Wash Cold
*Import
In This Pic:
Model's Height:

5' 8"

Wearing Size

Small
Measurements for Small:
Bust: 28 in= 71 cm
Waist: 31 in = 79 cm
Length: 25 in = 64 cm
Sleeve Length: 11in = 28 cm
Before I start, I'd like to mention that the following post is not sponsored in any way. I just received a question about fashion blogger programs and that's why I decided to make that post - to help you.
The following websites are the ones that offer fashion sponsorship programs for bloggers who are interested in fashion. I personally have worked with Sheinside and Chicnova on my Polyvore before and I'm totally happy with them. Although I did have some complications with Sheinside, the clothes I received were still very high-quality and I can't complain anymore. But I've also heard that a lot of people have had problems with them, so maybe I was just lucky? Talking about Chicnova, it's probably the most reliable company out there, since I haven't had even one single problem with them.
I can't promise you that you'll be accepted

to

every program, but you can give them a try. I believe in you and so should you. The worst thing they can tell you is no. If there's someone out there, who's currently looking for fashion blogger sponsorships, then have a look at the following clickable links:
Choies
Requirements:
You believe you have a taste for fashion and are influential in your personal blog, Facebook page, YouTube,

Chicisimo

etc.
You blog about fashion frequently, at least once a week.
Oasap
Requirements:
Are you a fashion blogger?
Are you a pretty girl who adores loving fashion?
Do you like posting photos of your outfits?
Do you have many followers who like commenting on your posts?
Goodnight Macaroon
Requirements:
At least 1000 GFC followers
B

loggers who have less than 1000 subscribers are welcome to join their affiliate program.
Chicwish
Requirements:
Are you a fashion blogger? Do you have a blog or youtube channel about fashion,life style or beauty?
Stylemoi
They have an application you have to fill in.
JewelSugar
Requirements:
Do you have a fashion and/or beauty blog or YouTube channel?
Do you contribute vastly to online fashion communities such as Polyvore, Lookbook, Chictopia or fashion-dedicated Facebook Communities/Groups?
Are you a Tweeting, Facebooking, Instagraming, Pinterest-Pinning fashion-dedicated enthusiast?
CHIKO Shoes
Requirements:
Your blog content shall be fashion or footwear related.
One of your social networking account shall have at least 5,000 active followers.
You must have 1000 followers via Bloglovin.
Romwe
Requirements:
Your blog must have over 1,000 followers (via bloglovin or

GFC

).
You have at least 5,000 followers with one of your social networking accounts.
Chicnova
Requirements:
Any fashion lover who has got a blogger account with more than 1000 followers or any other social network account with more than 2000 followers can apply.
Sheinside
Requirements:
Your blog must have over 1,000 followers (via bloglovin or google friend).
You have at least 5,000 followers with one of your social networking accounts.
Jessica Buurman
Requirements:
You have

p

assion for fashion and you love blogging about your style.
You have an established platform that has a

t least

1000 fa

ns

or more. Your platform can be 1 or many of the following

ones:

Blog, Facebook, Lookbook, Twitter, Youtube, Instagram, Pinterest or Chictopia, Chicisimo etc.
BeHoneyBee
They have an application you have to fill in.
Keep in mind, everything featured on this blog is my honest opinion and my only goal is to help you. And I'd love to know, has any of my readers ever cooperated with any of those companies? I'd really like to know your opinion on

fashion blogger program
I've blogged for two months already (oh man, the time flies so fast!), so I'm by no means an expert, but there are some things I've learnt during these amazing months so far and I'd love to share them with you.
Use 1-2 fonts maximum
Use more than 3 fonts and your blog'll look messy. Just trust me. The most popular fonts are probably Times New Roman and Arial, but you can find a lot of other fonts from various websites, for example www.dafont.com or www.fonts.com.
Pick a color scheme
To find scientifically matching color schemes, start with your primary color and find supplementary colors with a color scheme generator. I personally prefer black, gray and pink tones, but it's all up to you. Using green, purple and orange at the same time isn't a good idea, so it's always better to feature neutral tones in your blog.
Make your blog mobile-friendly
Nowadays people say that "mobiles are the future" and that's so true! Most of the time I browse different blogs I'm using my tablet or phone. You can find a tutorial on how to make your blog mobile-friendly here.
Navigation bar
When people visit your blog, the navigation bar is probably the first thing they'll look at. There's nothing wrong if you want to keep your blog's design on minimum. Just be sure not to forget adding at least contact and about me pages. Also search box is a useful tool. I've seen a lot of people asking about designing the navbar, you can find some good ideas from here.
Sometimes less IS more
While using neon floral-patterned background may seem like a good idea, don't! Just don't! Design your blog's appearance just the way you want it to be, but don't go overboard. It's never a bad idea to use the help of those ones who really know what they're doing. One good example of designing blogs is Pipdig, their works look amazing and I'm probably going to purchase their template sometime soon.
Write about what you truly love
There's no need to talk about shoes or hats if that's not what you're passionate about. When I started my blog, my goal was to write about fashion, but as the time passed, I realized that there are a lot of topics I want to cover - one of them being DIY projects. Besides, if you don't like your content, why should your readers do?
Don't be afraid to promote your blog
But be classy - no one likes follow for follow comments. If you comment on other blogs, make sure to leave your blog's link in the comment too. I personally like those clickable links and for that I use the following code:
<a href="Your blog's link here" rel="nofollow">Your blog's name here</a>
Use Grammarly or Ginger
Grammarly is a cloud-based software that helps correct your grammar (and checks for plagiarism, just in case). Just copy and paste your text into the editor, and in seconds it will run more than 250 grammar checks, highlight your grammatical errors and give you suggestions on how to improve the text. Ginger is a good alternative for Grammarly. I personally use it, mostly because it's free. :D
Don't measure stats too early.
If you've blogged for a few months only and you're expecting thousands of views, then you're wasting your time. Make sure you have Google Analytics installed and wait - the readers will come if the time is right. Just keep doing what you love the most and you'll see the results. Keep in mind, what's meant to be will always find a way.