Advertisement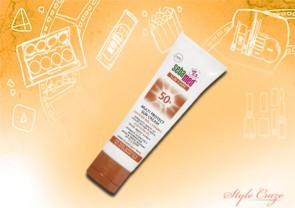 About Sunscreen
No we are not going to flood you with information and trivia on the benefits of using sunscreen – we know most of you have read it a million times on the net. But it is worth repeating that with so much pollution and adverse effects like skin irritations, premature aging, spots and skin cancer, we need to take good protection against harmful sun's rays.
Sunscreen is a product that either absorbs or reflects harmful UV rays of the Sun. These products help your skin stay youthful.
Sunscreens come in various forms and compositions and can be applied by anyone from a toddler to an elderly person. So will one sunscreen suit you for all occasions? Not at all. Sunscreens differ in terms of sun protection, composition and many more parameters. Some are formulated keeping in mind the delicate skin of the babies; some have low sun protection whereas some have high sun protection which is measured in SPF content. The higher the SPF, the higher the protection from UV rays. So you see – there's a lot to be read about Sunscreens, so we suggest you take a look at our articles and choose your next Sun screen wisely .
Advertisement